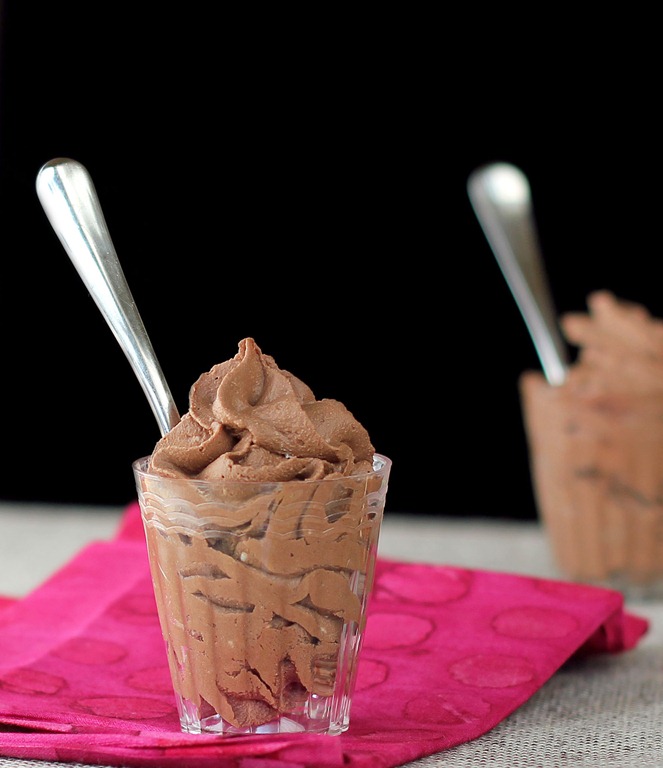 I recently came across a wonderful blog, "Chocolate-Covered Katie-the healthy desert blog," that promised sweet temptations that are relatively guilt free. The delectable morsel that caught my eye were her "Chocolate Frosting Shots" that promised rich decadent chocolate that would leave you feeling satisfied.
Even though the directions were easy and called for relatively few ingredients I still felt it had too
many steps. My solution; substitute all the ingredients besides the cocoa with Cream of Coconut. You skin off the thick layer as you would in the original recipe and them just add cocoa and mix. The taste is kind of  like an almond joy. I didn't do the math to see how many more grams of sugar or fat would be added to my modified version of this recipe but whatever it is it is definitely worth it! Not to be a slouch I did also attempt to make the original version of the recipe as well and was also satisfied with the results, though I preferred it with half of the amount of sugar which is ironic because the Cream of Coconut version is waaay sweeter. (The image to the left is the version from the blog, the image to the right is the my attempt at home). See below for the recipe!
Chocolate Mousse Frosting
(or just chocolate mousse)
1 can coconut milk
1/4 cup plus 1 T cocoa powder
1/2 tsp pure vanilla extract
sweetener to taste (I used a little stevia, but any dry sweetener will do.)
Open the coconut milk, and leave the can (or transfer to a bowl) uncovered in the fridge overnight. (Don't shake the can before opening.) It should get very, very thick. (If it doesn't, you've gotten a bad can that won't work for the recipe. I highly recommend Thai Kitchen, or especially Thai Kitchen Organic.) Once thick, transfer to a bowl (you can opt to leave out the watery bit at the bottom of the can, if you want it even thicker) and whip in your cocoa, vanilla, and sweetener with a fork, or even beaters if you want to be fancy. (For the photos on this page, I didn't use beaters. But I did pipe the mousse out using an icing tip.) Stored uncovered in the fridge, the mixture gets even thicker.